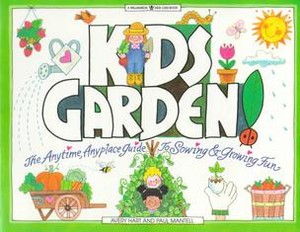 Kids Garden!: The Anytime, Anyplace Guide to Sowing and Growing Fun
By Avery Hart and Paul Mantell; illus by authors
http://www.averyhart.com/
3-4 Preschool Primary Williamson 160 pp.
091358990X Paperback $12.95
Non Fiction
With the onset of the summer gardening season, preschoolers (and their parents) are ready to shake off winter and get outside. Family gardening is a wonderful way to burn energy, but it's also a learning opportunity and a chance to bond, as evidenced by
Kids Garden!
, a comprehensive guide for kids and parents interested in how things grow.
One caveat: this book is one that needs to be used with a parent's supervision and help. While the activities described are well suited for preschoolers (some are even all right for children as young as 18 months), many have more than one step, (keeping pet worms in a compost bin, making a seedling greenhouse, etc.). Kids will need help decoding and following instructions and, in some cases, planning projects and handling supplies.
Kids Garden!
is not a specialized book - it contains a wide variety of topics from how seeds grow to creating a salad with home grown vegetables. There's even a recipe for what to do with all of your extra zucchini, (drop cookies that actually sound quite good). The table of contents is clearly laid out and topics follow an intuitive order, beginning with tools of the trade and ending with chapters on growing specific plants and herbs. One thing it does lack is an index. Searching for specific activities and topics would be easier without having to leaf through the pages, though it is a fun book to browse. In fact, the book's only real weaknesses are the illustrations and layout. Through the cover is colorful and packed with fun images, the pictures inside, though ample and charming, are black and white. Combined with the cluttered layout, the pictures and the text jumble together, making it difficult to read, thus absolutely necessitating an adult's help with decoding. That said, it is a single weakness in an otherwise good book. Comprehensive in nature with enough activities to fill the long summer days,
Kids Garden!
is a good choice for parents and preschoolers looking to get outside.