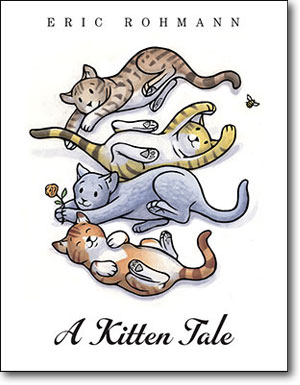 A Kitten Tale
By Eric Rohmann; illus. by author
http://www.ericrohmann.com/
2-4 Preschool Primary Knopf 32 pp.
978-0517709153 Hardcover $15.99
Fiction
Eric Rohmann, winner of the Caldecott for
My Friend Rabbit
, is a master at communicating broad concepts, feelings and values in the simplest, most accessible terms. His sixth book,
A Kitten Tale
, is an excellent example. Before the story even starts, Rohmann establishes the dynamic among the kittens in question with an eloquent illustration on the page preceding the title page spread. Three kittens tumble and play in the springtime grass (done in the same black outline with soft colors style as
My Friend Rabbit
). A fourth kitten peeks out from behind a tree. Unlike his companions, this kitten looks curious with a cocked head and alert demeanor. "I'm the kitten to watch", his posture implies, and he doesn't disappoint. He is the kitten who jumps into the mailbox to dig out postcards of snow while his companions look on, concerned. He is the kitten who jumps after the frog while his companions pat a puddle. He is the kitten who, despite the fact that he's never seen it, cannot wait for snow.
The narrative follows the progression of the seasons, from a lush, grassy spring, through a warm-toned summer and red leafy fall, all the way to the snowy winter that three of the four kittens so worry about. While his companions dread the wet, cold winter, the fourth kitten, the intrepid kitten, repeatedly says that he "can't wait". And when the snow finally does arrive, he is the first out the door to romp in it. When the other kittens see how much fun he's having, they go out to, despite their reservations, and all four have a wonderful time.
Rohmann's illustrations are charming and, while naive in style, they perfectly capture the cocked ears, puffy chests and busy, over-large paws of kitten body language. The text is straight-forward enough for beginning readers to grasp, (particularly with the help of the illustrations), without being so simple as to be tiresome for the parents of pre-readers (given that this is a story that will likely enjoy high demand).
A Kitten's Tale
also functions as a lovely introduction to the seasons with plenty of opportunities to watch the kittens romp through nature in the spring, summer, fall and oh-so-dreaded snowy winter. The real charm of the book, however, lies in the sweetness of the relationship between the kittens. The fourth kitten leads by example, doing his own thing without bullying, while his companions look on and follow at their own, non-judgmental pace.
Ideal for winter story times,
A Kitten's Tale
is also great for reading at home, particularly for preschoolers who tend to hold back a little before jumping into new experiences. The kittens provide just the sort of gentle encouragement that the slightly cautious or worry prone might need.